Your fridge, your way
Desain Unik dan Stylish
Bespoke – Desain yang dapat di Customize
Desain dapur stylish dan unik impian Anda dengan Variasi warna seperti Sky Blue, Pink, dan Navy serta variasi finish seperti Matte Glass (Satin) dan Glossy Glass (Glam) dari Samsung BESPOKE.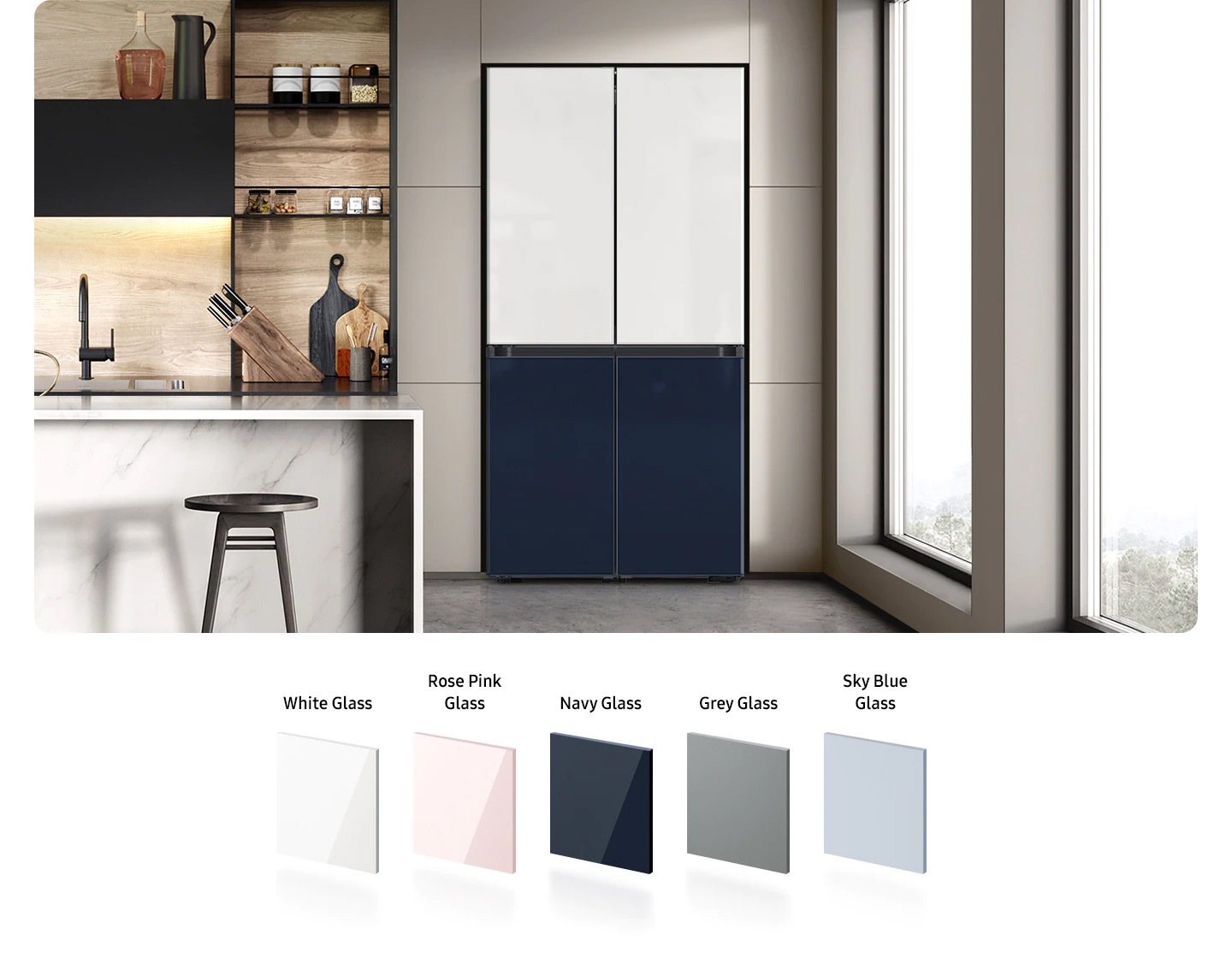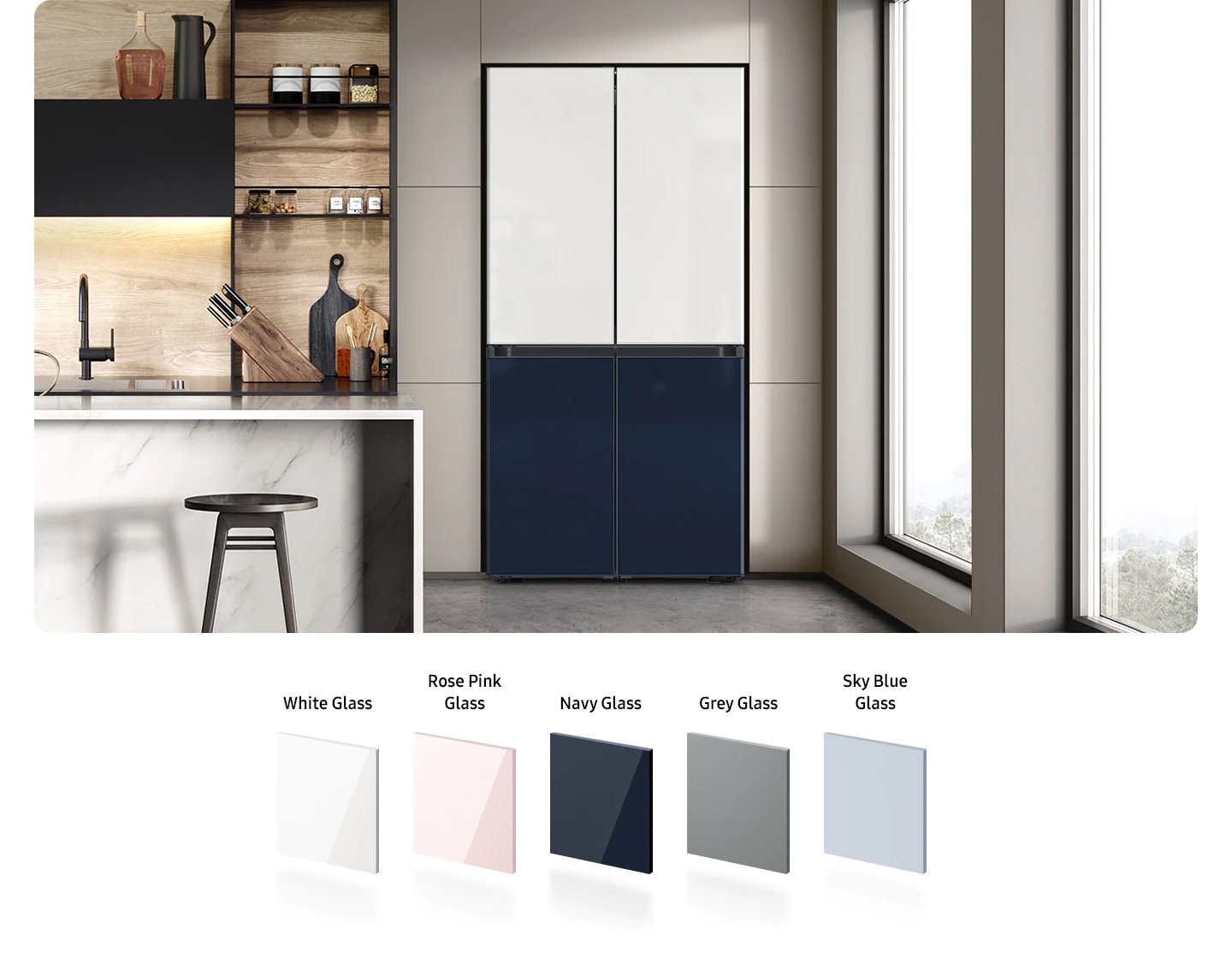 * Color combination for each model may be different by each country.
Menjaga Kesegaran Makanan
Dengan Ruang Penyimpanan yang Fleksibel
Jaga kesegaran berbagai jenis makanan dengan FlexZone™. Kompartemen ini didukung dengan pengendali suhu yang dibagi dalam 5 mode preset: Freeze, Soft Freeze, Meat/Fish, Fruit/Veggies dan Beverage, untuk menjaga kondisi optimal sesuai dengan kebutuhan masing-masing jenis makanan.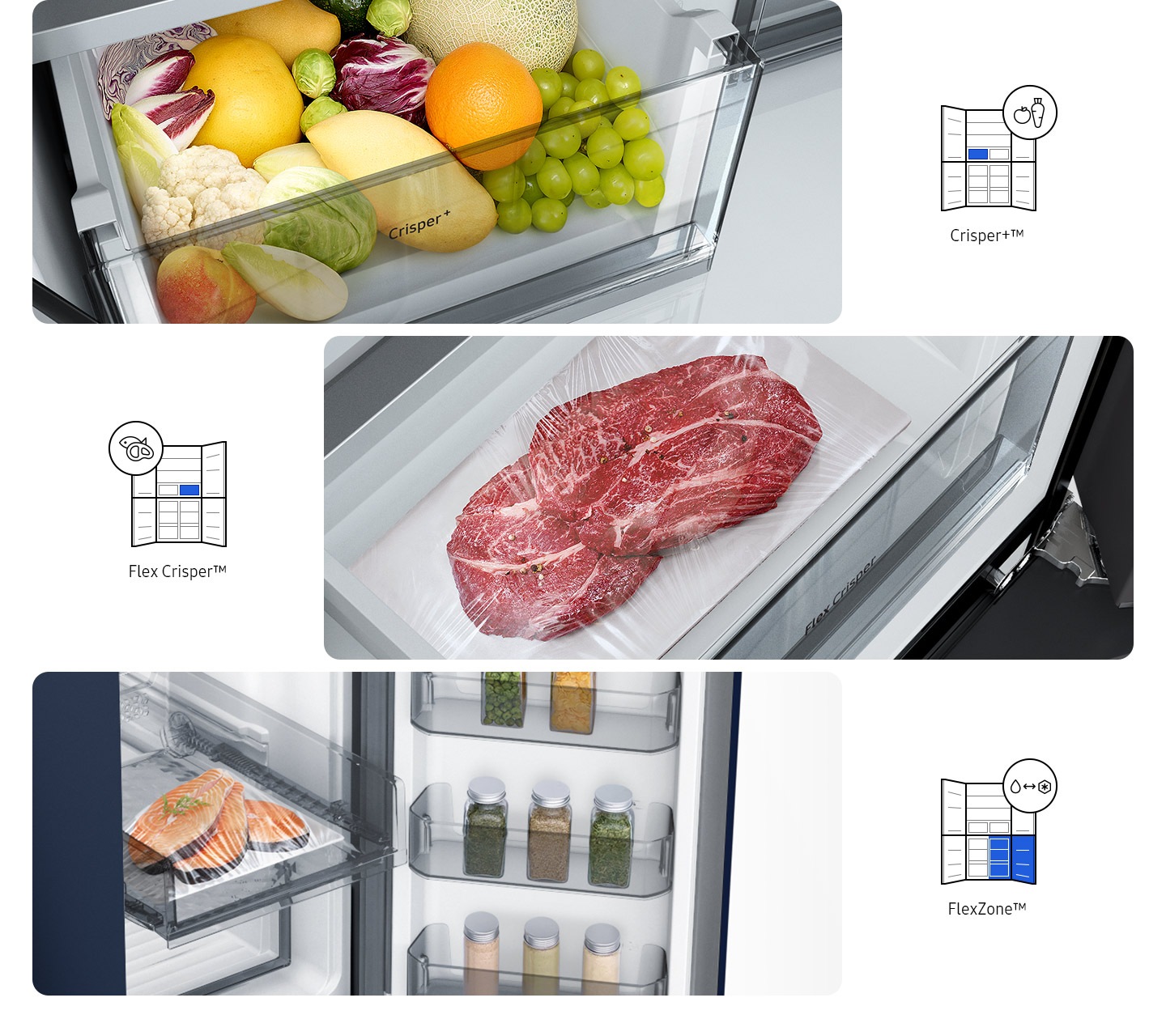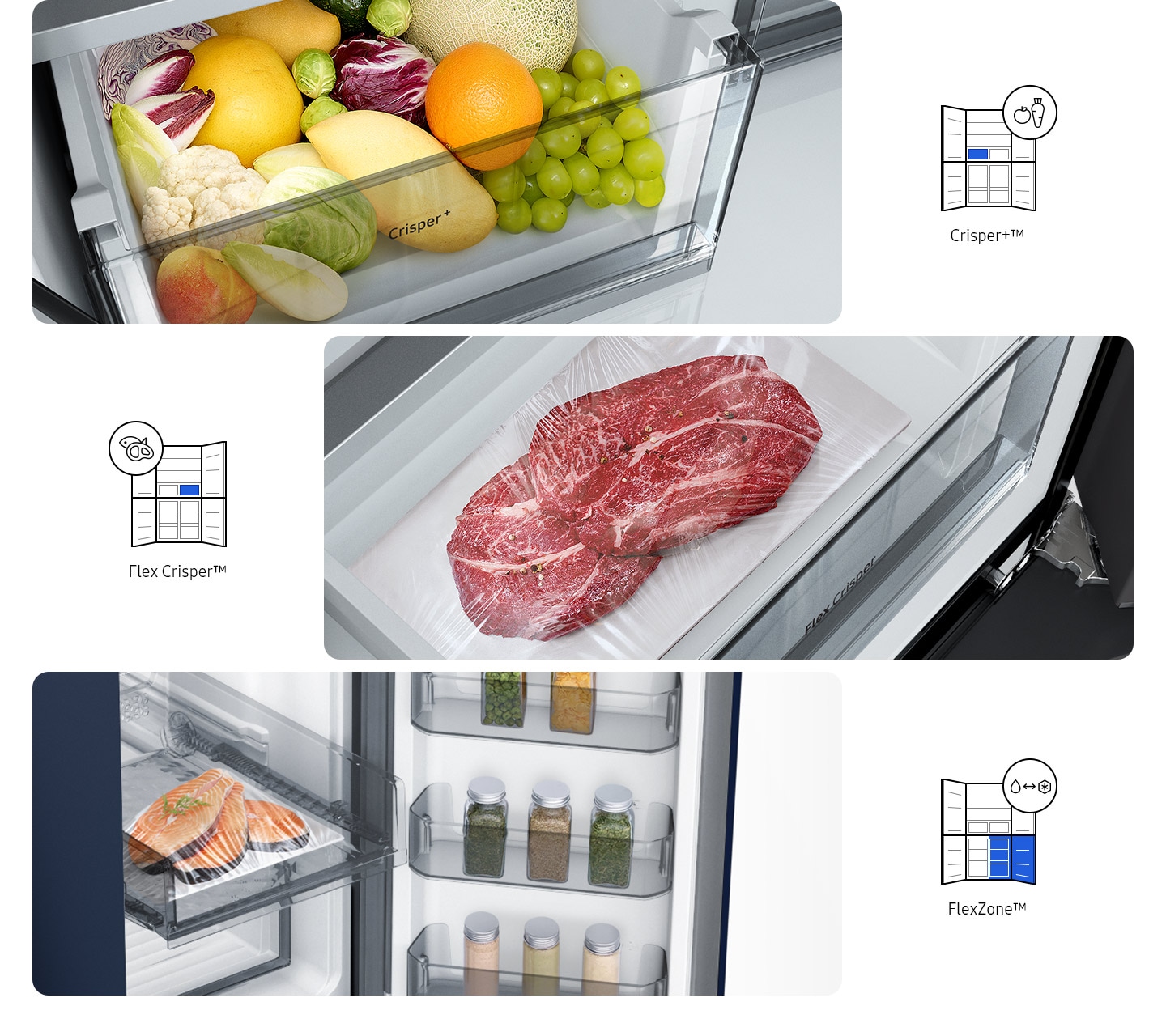 Desain yang Stylish sepanjang masa.
Desain
Percantik dapur Anda dengan Desain Kulkas BESPOKE yang minimalis. Didukung dengan desain pintu dan handle yang Flat dengan pilihan warna pintu yang dapat disesuaikan dengan tampilan keseluruhan dapur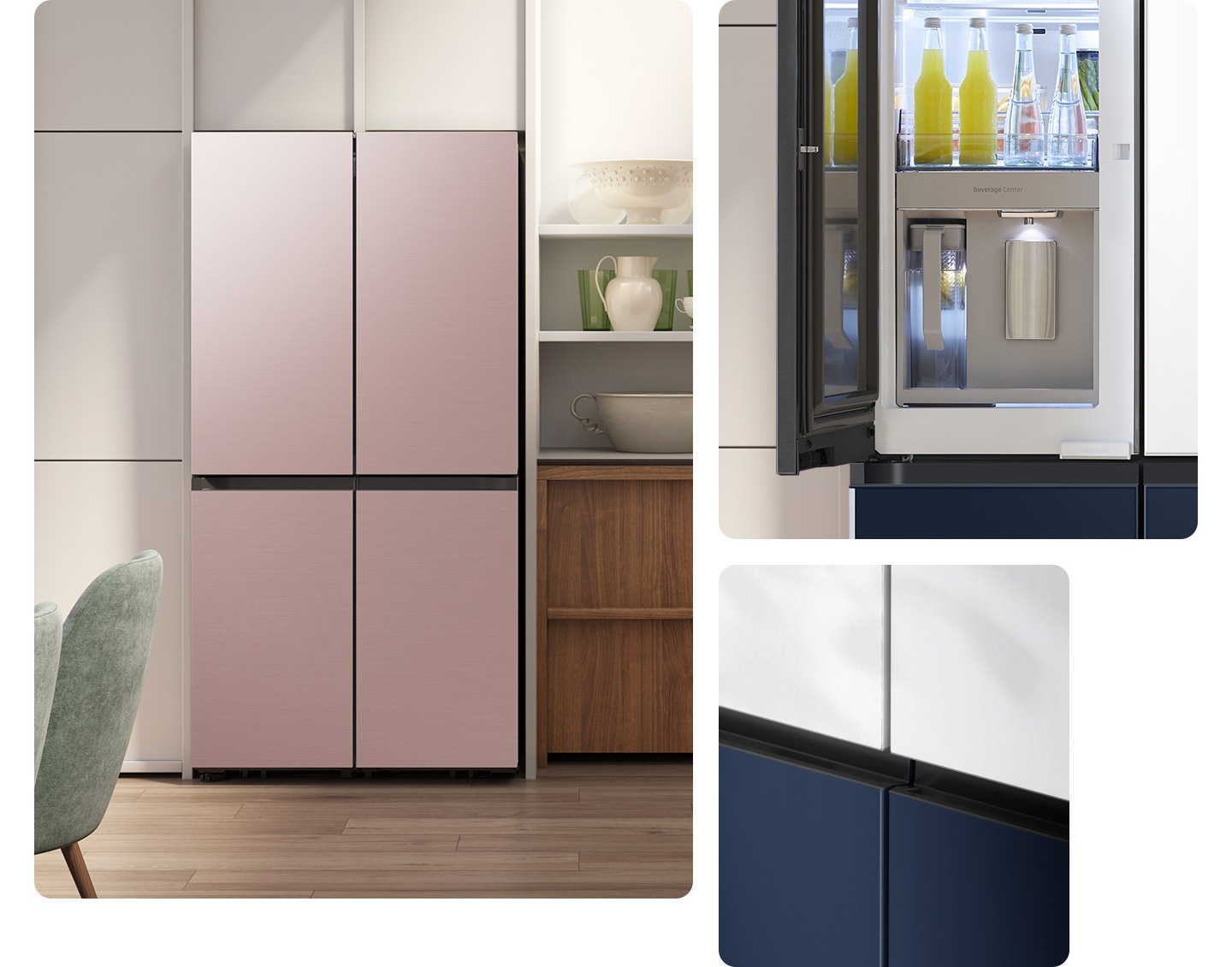 * The antimicrobial coating on the handle does not protect users or others against bacteria, viruses, germs, or other harmful organisms.
Menjaga kesegaran dengan Tepat
Triple Cooling + Precise Cooling
Triple Cooling mengatur suhu dan kelembaban masing-masing kompartemen secara mandiri, mencegah bau bercampur, Dan Precise Cooling membantu meminimalisasi fluktuasi temperatur. Membantu menjaga makanan Anda segar lebih lama.
Spesifikasi
Net Total(Liter) 523 L
Cooling Type Triple Cooling
Net Weight(kg) 141 kg
Net Width(mm) 912 mm
Net Depth with Door Handle(mm) 673 mm
Net Case Height with Hinge(mm) 1853 mm
Detail Spesifikasi
Bottom Left
Shelf 1 EA
Box 2 EA
Door Pocket 3 EA
Icemaker Twist I/M
LED Interior Light Yes
Bottom Right
Box 1 EA
CoolSelect + Yes
Convertible Room(derajat C) -23~-15, -5, -1, 2, 4 Derajat C
LED Interior Light Yes
Shelf 2 EA
Door Pocket 3 EA
Capacity
Net for Freezer(Liter) 144 L
Net for Fridge(Liter) 379 L
Net Total(Liter) 523 L
Gross for Freezer(Liter) 255 L
Gross for Fridge(Liter) 389 L
Gross Total(Liter) 644 L
Cooling Feature
Cooling Type Triple Cooling
Exterior Feature
Color SATIN SKYBLUE+SATIN BEIGE
Display Type Internal
Door Handle Recess
General Feature
Refrigerant R600a
Door Alarm Yes
Compressor Digital Inverter Compressor
Physical specification
20/40/40H (Container) 30(40ft)
Net Case Height with Hinge(mm) 1853 mm
Net Case Height without Hinge(mm) 1797 mm
Net Depth with Door Handle(mm) 673 mm
Net Depth without Door Handle(mm) 673 mm
Net Depth without Door(mm) 610 mm
Net Weight(kg) 141 kg
Net Width(mm) 912 mm
Packing Dimension (WxHxD)(mm) 972x1995x776 mm
Packing Weight(kg) 151 kg
Refrigerator Feature
Number of Door Pocket 6 EA
Number of Shelf (Total) 4 EA
Number of Vegetable&Fruit Drawer 3(Veg Box 2ea+Can store 1ea)
Shelf Material Tempered Glass
Egg Container(Egg Tray) Yes
Shelf Type Spill Proof
Interior Light Top & Side
Smart