Refresh & Sanitize
Refresh with the power of steam
Three Air Hangers release air and steam throughout AirDresser to refresh clothing, remove dust and 99% of odors,¹ while relaxing light wrinkles from the inside and out.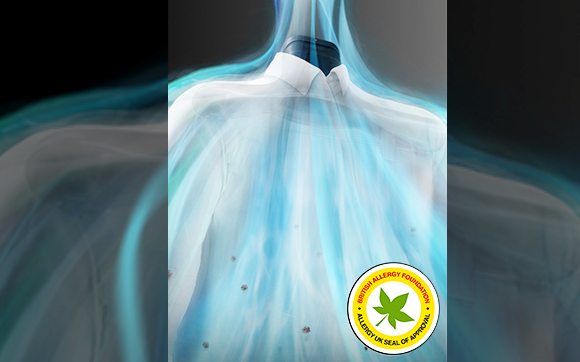 Sanitize for an extra-clean boost
With AirDresser's Sanitize cycle, high-temperature steam penetrates and sanitizes clothes.
Setup with one simple step
Easy Installation
Simply plug your AirDresser into a standard 120V outlet and you're all set.
No separate water line or professional installation necessary – the refillable water reservoir is all you need.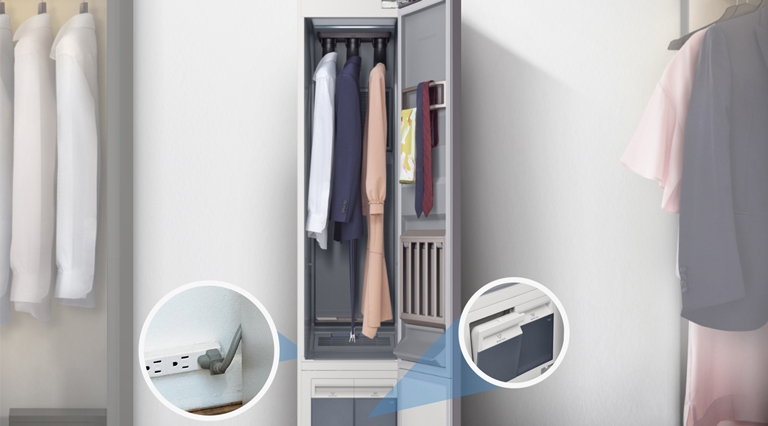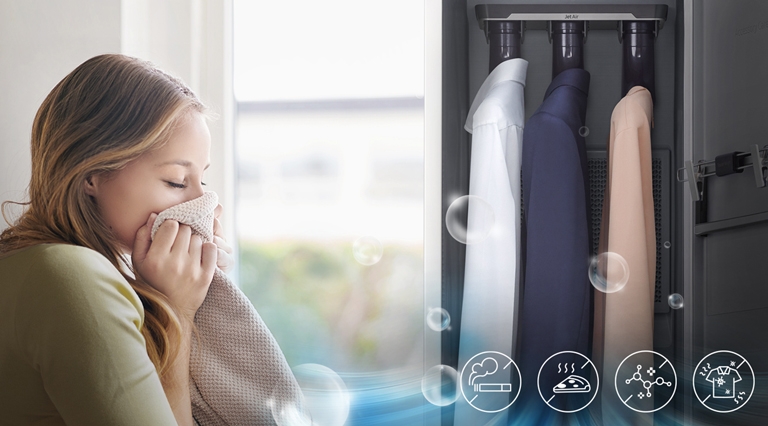 Odor-elimination technology keeps things fresh
Deodorizing Filter
Eliminate 99% of stubborn odors that linger in fabrics caused by smoke, perspiration and food with AirDresser's built-in deodorizing filter.*
* Based on testing by Intertek, using Normal cycle, eliminates 99% of isovaleric acid, 4-ethenylpyridine, valeraldehyde, and tetrachloroethylene.
Control in the palm of your hand
Wi-Fi Connectivity
Remotely start, pause, receive notifications and get cycle recommendations right on your phone so you can care for your clothes from anywhere.*
* Available on Android and iOS devices. A Wi-Fi connection and a Samsung account are required.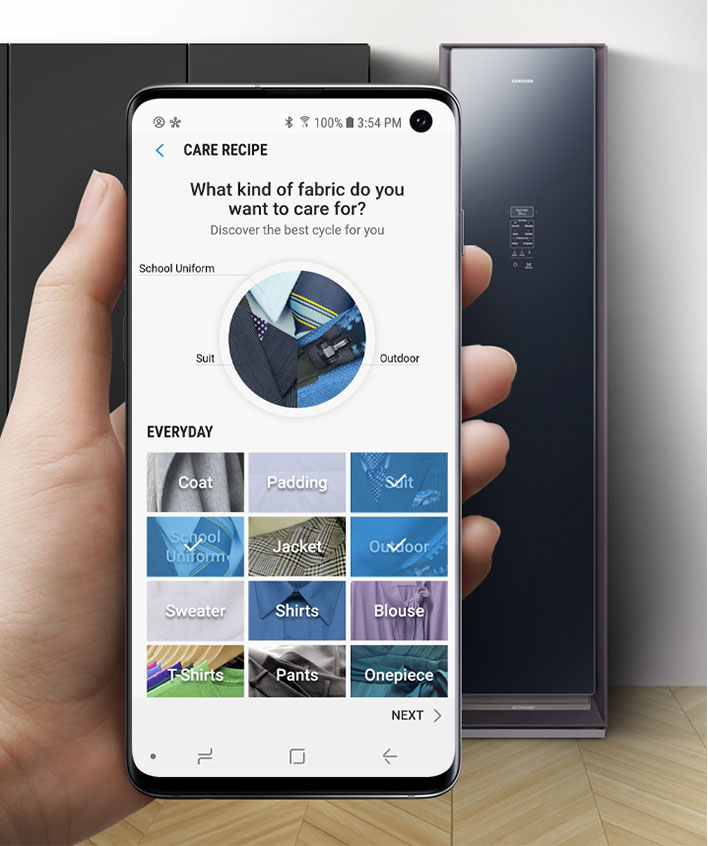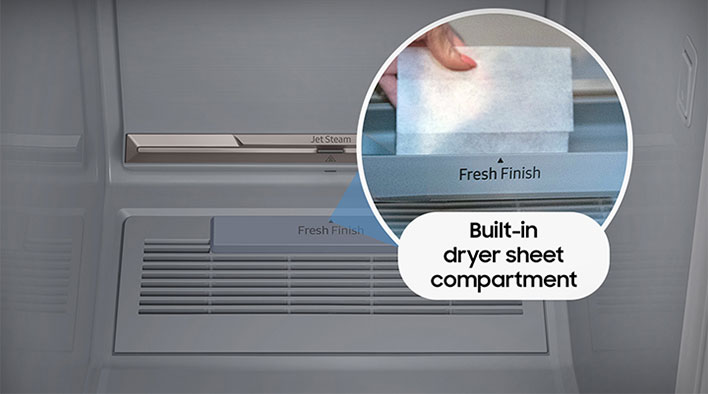 Enhance your clothing with a favorite scent
Fresh Finish™
Freshen up your garments and reduce static cling by inserting a dryer sheet into the built-in Fresh Finish compartment.*
* Dryer Sheets not provided. Scent strength may differ based on dryer sheet used. Scent may remain inside AirDresser after cycle is complete.
Discard dryer sheets after each cycle to prevent mold growth.
Gentle, low-heat drying
Heat Pump Drying
Spend less time caring for delicates or waiting for your raincoat to dry with lower-temp Heat Pump Drying, which reduces the risk of heat damage and shrinking.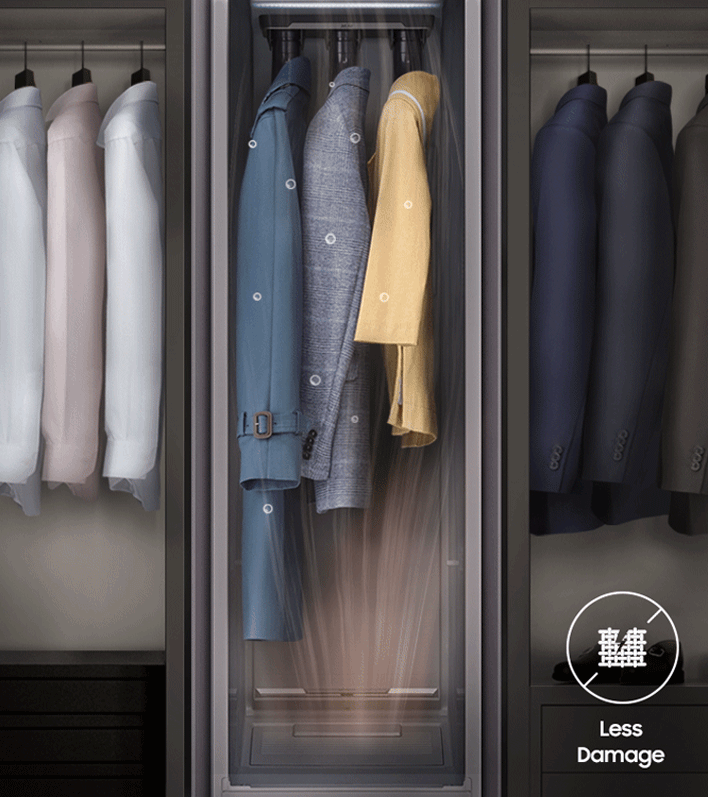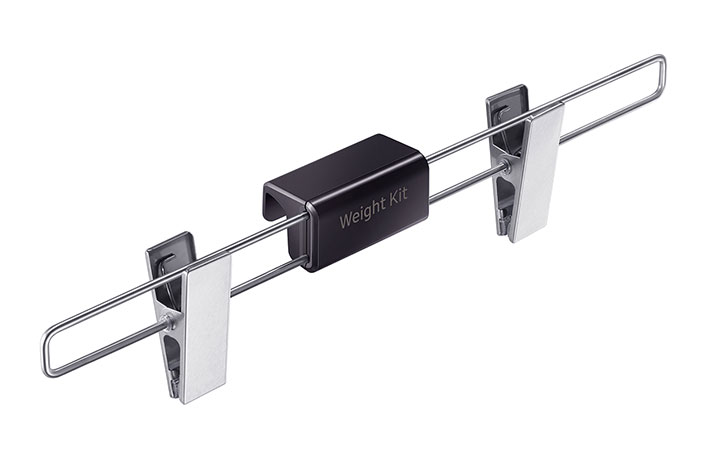 Renew pant pleats in less time
Weight Kit
Speed up your ironing routine with our weight kit, which helps renew pant pleats and smooth out wrinkles to keep pants looking their best.
Ditch the rubber gloves
Self Clean
With Self Clean technology, eliminate odors and buildup inside your AirDresser and even receive reminders when you're due for a cleaning every 40 cycles.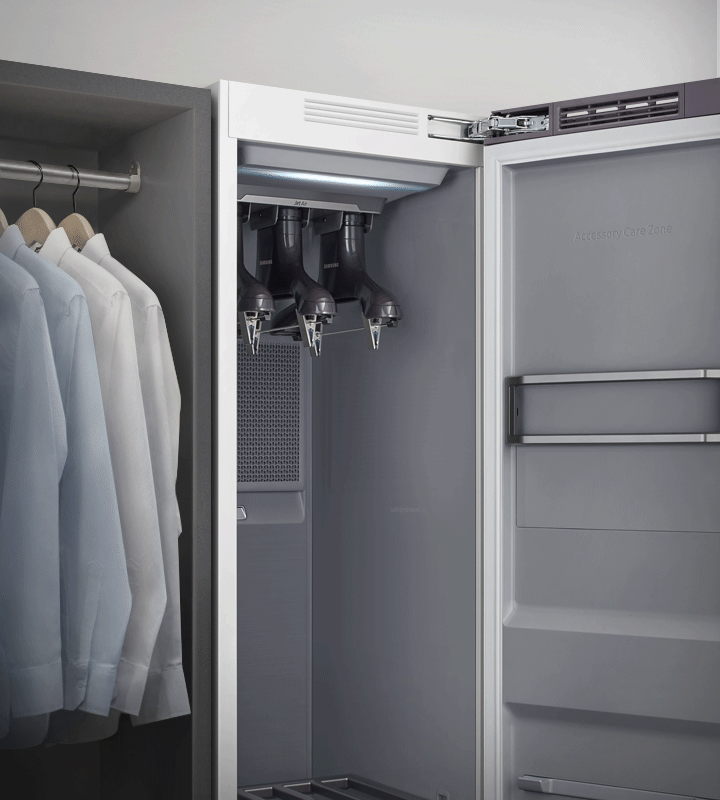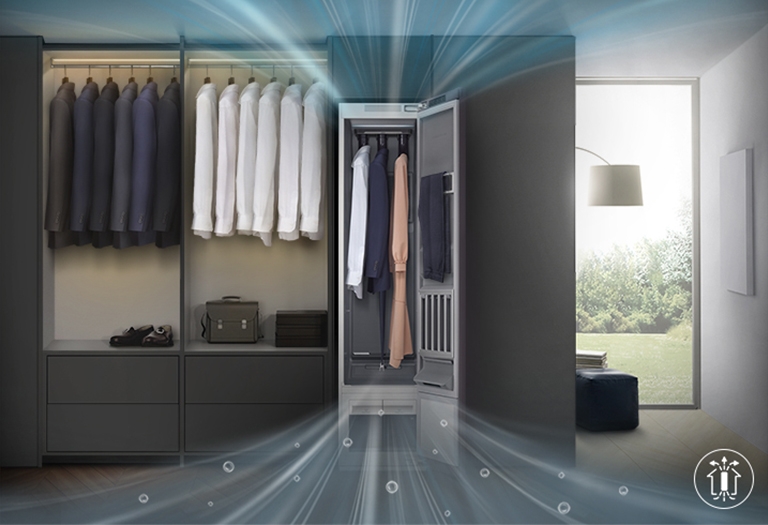 Better clothing care with less humidity
Dehumidification
By leaving the AirDresser's door open and using the dehumidifying feature, AirDresser will remove excess moisture from any room or closet.
Key Features
Steam

Yes

Sanitization

Yes

Easy Installation

Yes

Odor Removal

Yes

Standard Features

Capacity

6 Hanging Garments including pants

Wi-Fi Connectivity

Yes

Fresh Finish

Yes

Heat Pump Drying

Yes

Wrinkle Care

Yes

Self Clean

Yes

BAF Certified

Yes

Dehumidification

Yes

General Cycles

Normal

Yes

Delicates

Yes

Quick

Yes

Sanitize

Yes

Dry Cycle
Sensor Dry

Yes

Time Dry

Yes

Room Care

Yes

Self Clean
Suits

Yes

School Wear

Yes

Winter Coat

Yes

Wool/Knit

Yes

Outdoor

Yes

Down Jackets

Yes

Fur/Leather

Yes

Heavy Duty

Yes

Self Clean

Yes

Download Cycles
Denim

Yes

Down Dry

Yes

Accessories

Yes

Babywear

Yes

Bedding

Yes

Toys

Yes

Convenience
Noise (dB)

39 dB

Fill Water (L)

1.69

Drain Water (L)

1.49

Accessories

3 Air Hangers (for both Tops & Bottoms), Hanger Kit , Weight Kit, Shelf

Power
Voltage/Frequency

120V / 60Hz

Power Consumption

1300 W

Dimensions & Weight
Product Dimension (WxHxD with handle)

17 9/16 inch x 72 7/8 Inch x 24 1/4Inch

Product Dimension (WxHxD without handle)

17 9/16" x 72 7/8" x 23 9/16"

Product Weight

196.2 lbs

Shipping Dimensions and Weight (WxHxD)

20 7/8" x 76 3/8" x 29 7/8"

Shipping Weight

213.8 lbs

Design
Door Color

Dark Black

Display

LCD / Touch