Harga dan Stok dapat berubah sewaktu-waktu, tanpa pemberitahuan terlebih dahulu
Detail produk dari Samsung WA70H4200SW Mesin Cuci 1 Tabung Otomatis 7kg Eco Bubble&Wobble-Putih
teknologi inovatif Wobble Samsung mesin cuci ini membantu melindungi kain halus dari kerusakan gesekan sementara masih membual kinerja mencuci yang luar biasa.Struktur unik pulsators Wobble yang menghasilkan dinamis, aliran cuci multi-arah yang meminimalkan kusut, tikungan dan knot dan benar-benar membersihkan pakaian dengan kemampuan noda-pertempuran yang ditingkatkan. Samsung mesin cuci Udara Turbo Drying System membantu mengurangi waktu pengeringan.Dengan cepat berputar cuci mesin drum untuk mengekstrak lebih banyak air dari beban, sementara menggambar di udara lebih banyak untuk mempercepat proses pengeringan.Sehingga meminimalkan waktu yang dibutuhkan untuk mendapatkan pakaian basah atau selimut kering. Mesin cuci Samsung memiliki ergonomis dan merampingkan desain yang terlihat baik dan berlangsung lebih lama.Elegan, kurva alami dari desain bulat bermata dilengkapi dengan miring, panel kontrol klaster ganda, yang membuatnya lebih mudah untuk digunakan.Terutama karena biru es LED display memberikan informasi yang jelas, dan sentuhan keindahan halus.Pintu kaca tempered yang kuat dan tahan lama juga memudahkan untuk melihat segala sesuatu di dalam. Untuk yang paling dalam kenyamanan, teknologi Eco Tub Clean terus beban mesin cuci top Anda segar tanpa menggunakan bahan kimia.Dan bahkan dapat memberitahu Anda secara otomatis saat dibutuhkan pembersihan. Mesin cuci Samsung memiliki, panel klaster ganda miring kontrol yang lebih nyaman dan intuitif untuk digunakan.desain ergonomis, dengan tombol di kedua sisi, membuatnya mudah untuk memilih pilihan yang tepat untuk program dan mengontrol cucian Anda.Ini juga miring dan terletak di bagian depan, dan termasuk tampilan grafik es biru, sehingga lebih mudah untuk mengakses dan melihat apa yang Anda lakukan. Mesin cuci Samsung memiliki pintu kaca tempered, sehingga mudah untuk melihat ke dalam, tapi itu akan bertahan lebih lama lagi.Ini dirancang untuk menahan banyak tekanan dan kuat terhadap kerusakan dan goresan.Sehingga akan tetap terlihat hampir seperti baru untuk waktu yang lama. Sebuah Filter Sihir efektif mengumpulkan serat, bulu dan partikel yang keluar dari pakaian Anda, sehingga semuanya tetap bersih dan drainase Anda tidak mendapatkan tersumbat.Dan hal ini sangat mudah Teknologi Water Fall memberikan lebih kebersihan dan pembilasan.Yang kuat, terkonsentrasi semprotan air memastikan deterjen didistribusikan secara merata, sehingga mencuci cucian Anda lebih teliti.
Magic Filter
Double Strom Pulsator
Top Load Washing Machine
7 kg
Washing Capacity (kg)
Advanced fabric care and cleaning
[img src="http://images.samsung.com/is/image/samsung/my-feature-top-loader-wa70h4000sg-wa70h4000sg-fq-48050334?$ORIGIN_PNG$" alt="Advanced fabric care and cleaning " title="Advanced fabric care and cleaning ">
The Samsung washing machine's innovative Wobble technology helps protect delicate fabrics from friction damage while still boasting the outstanding washing performance. The unique structure of its Wobble pulsators generates a dynamic, multi-directional washing flow that minimises tangles, twists and knots and thoroughly cleans clothes with its enhanced stain-fighting capabilities.
Dries clothes much faster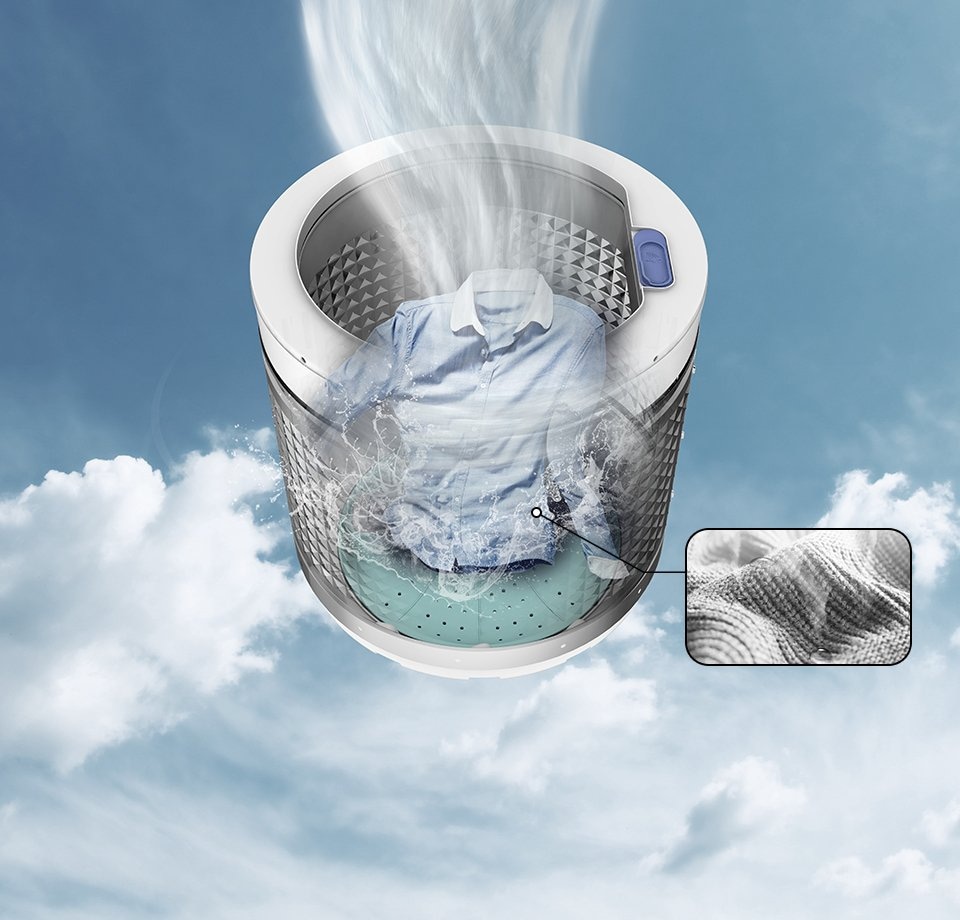 The Samsung washing machine's Air Turbo Drying System helps to reduce drying times. It rapidly rotates the washing machine drum to extract more water out of the load, while drawing in more air to speed up the drying process. So it minimises the time it takes to get wet clothes or blankets dry.
Keeps your top load washer fresh
For the ultimate in convenience, Eco Tub Clean technology keeps your top load washer fresh without using harsh chemicals. And it can even notify you automatically when it needs cleaning.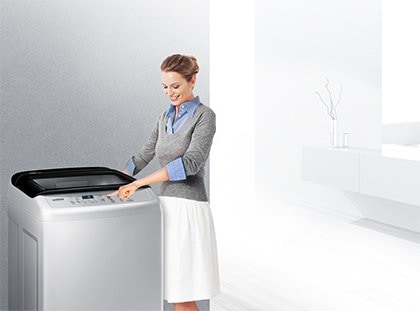 Harmoniously streamline and ergonomic design
The Samsung washing machine features an ergonomic and streamline design that looks good and lasts longer. The elegant, natural curves of its round edged design are complemented by the slanted, dual cluster control panel, which makes it easier to use. Especially as its ice blue LED display provides clear information, and a touch of refined beauty. A strong and durable tempered glass door also makes it easy to see everything inside.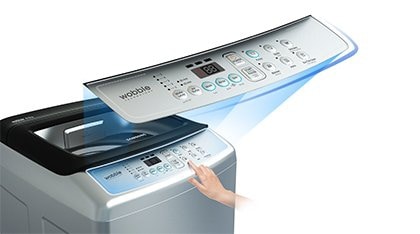 Simpler to access and control
The Samsung washing machine has a slanted, dual cluster control panel that's more comfortable and intuitive to use. Its ergonomic design, with buttons on both sides, makes it simpler to select the right options to program and control your laundry. It's also angled and located on the front, and includes an ice–blue graphic display, so it's easier to access and see what you're doing.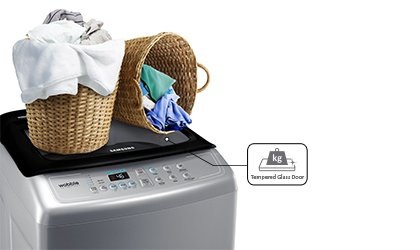 Clearly more durable and long-lasting
The Samsung washing machine features a tempered glass door, so it's easy to see inside, but it will last much longer. It's designed to withstand a great deal of pressure and it is strong against damages and scratches. So it will stay looking almost as good as new for a long time.

Magically cleaner
A Magic Filter effectively gathers the lint, fluff and particles that come out of your clothes, so everything stays cleaner and your drainage doesn't get clogged up. And it is extremely easy to clean.

Thoroughly clean
The Water Fall technology delivers more cleanliness and rinsing. Its powerful, concentrated water spray ensures detergent is distributed evenly, so it washes your laundry more thoroughly.
7 kgWashing Capacity (kg)
Double StromPulsator
Diamond DrumDrum type
540 x 850 x 560 mmNet Dimension (WxHxD)
**SELAMA STOK MASIH TERSEDIA
**HARAP KONFRIMASI STOK TERLEBIH DAHULU
**HARGA DAPAT BERUBAH SEWAKTU-WAKTU